Waterless Pedicure
Hours of Operation
Monday: 8:30AM – 5:00PM
Tuesday: 8:30AM – 5:00PM
Wednesday: 8:30AM – 5:00PM
Thursday: 8:30AM – 5:00PM
Friday: 8:30AM – 5:00PM
Saturday: By Appointment Only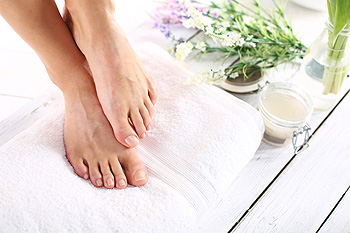 Nails are porous. When the nail is saturated with water, it expands. When it dries, it retracts. This retraction flexes the polish, increases the chance of a chip and peel, and causes nails to be susceptible to splitting or breaking. Waterless services reduce these inconveniences as well as the risk of complications due to water-borne bacteria and infections. DeNiel Foot and Ankle Center strives to be as eco-friendly as possible, and going waterless means we are doing our part to conserve a valuable resource. Did you know that a typical salon uses 12 gallons of water per pedicure and almost 50,000 gallons per year on all combined services? We are proud to be doing away with that waste.
How are Feet Cleaned if No Water is Used?
Health and safety are of our utmost concern. We begin all services by spraying each client's feet with a refreshing botanical cleansing spray containing aloe, witch hazel, alcohol, tea tree oil, lavender, and vitamin E. In some cases, we rinse the feet with sterile water to clean off any external debris. This is followed by a warm towel wrap containing all-natural antibacterial essential oils. Our nail consultants wash their hands before every service and apply gloves before servicing each client.
We can perform a safe cosmetic pedicure on people who are chronically ill, as well as people who are healthy. We provide pedicures for those who are suffering from various health problems:
Autoimmune diseases such as:

Controlled Diabetes
Arthritis
Psoriasis
Thyroid disease
Taking or have taken chemotherapy or radiation
As a Podiatrist, I am able to recognize, recommend, and treat potential health problems. For example:
Spotting lesions on the foot;

Many diabetics have thick calluses that may hide potential problems. I would be able to spot these during my examination of your foot.

Identifying possible infections on the feet
Identifying and treating abnormal biomechanics of your feet to make walking or standing much more comfortable. We can discuss orthotics to help relieve some of that pain.
We will be able to recognize possible abnormalities through a foot evaluation, such as trauma to the nails.
Proper Sterilization and Sanitation
Because you are in a doctor's office, all of our instruments are sterilized in an autoclave, or a device that uses steam under pressure to kill all bacteria, viruses, fungi, and spores on their surfaces. We also use an e-file with a vacuum system and autoclave the bits. Additionally, we use single-use files and buffers for each pedicure. Being in a doctor's office, we go above and beyond to provide a safe and healthy atmosphere for clients. Another method we use to ensure proper sanitation is the waterless pedicure. A waterless pedicure ensures that your feet remain properly hydrated while avoiding issues with bacteria that are possible with whirlpool tubs.