Laser Treatment For Fungal Toenails
Do you have embarrassing toenails due to toenail fungus? You can now get rid of toenail fungus using our FDA cleared Foot Laser. The PinPointe Laser is a patented laser device that clinical studies have demonstrated to significantly reduce toenail fungal infection, leading to improved appearance. It is an easy and effective treatment that will help turn your discolored and disfigured toenail into clearer, healthier toenails.
Book Your Appointment Online Today Or Call Our Office: (832) 415-1790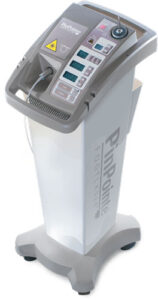 Video Introduction of the PinPointe Laser Treatment Process
Fungal Toenails are very common
An estimated 12%  of  Americans experience fungal nail infection, called onychomycosis.  Onychomycosis is a fungal infection of the nail. Both toenails or fingernails may be affected by the fungal infection however, onychomycosis is more prevalent in toenails. Symptoms include discoloration of the toenail with a yellow, greenish appearance or yellow/white streaks, thickening of the nail and separation or loosening of the nail from the nail bed.
Laser Treatment Process
Laser treatment for nail fungus offers the most viable solution to regaining healthy nails. The patented PinPointe FootLaser is a specially designed laser beam that goes through the toenail and safely kills the organisms embedded in the nail bed that cause Onychomycosis, more commonly known as toenail fungus. The laser uses a Nd:YAG crystal. PinPointe's proprietary combination of wavelength, pulse structure and spot size, targets the fungus. The unique laser pulse ends before damaging surrounding tissue or causing pain to the patient.