On behalf of the DeNiel Foot & Ankle Center team, we would like to welcome you to our clinic. We are pleased to have the opportunity to assist you with your foot and ankle needs. Our goal is to provide the highest quality and most up-to-date foot and ankle care treatment available in a professional and caring manner.
We look forward to taking care of you and your family over the coming years, and hope to engage you in working toward your health goals while striving to meet our motto, "Achieving Excellence In Patient Care". It is also our goal to provide you with outstanding service with our Houston podiatrist.
Additional Services
Dr. Shobowale is available to treat foot and ankle ailments such as diabetic foot care, ingrown toenails, fungal toenails, warts and painful calluses. Our practice specializes in general foot care. Please call (832) 415-1790 for an appointment.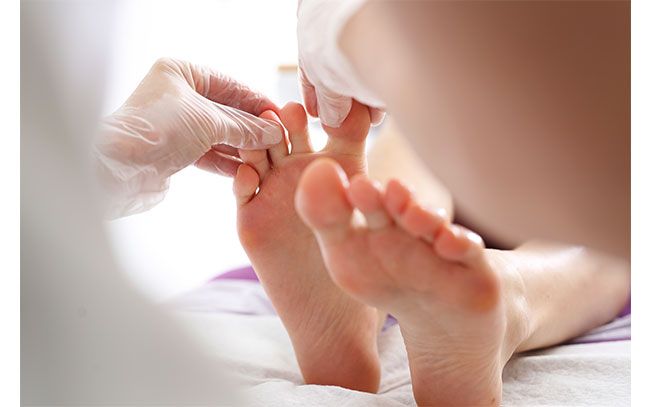 These are some of the insurance plans accepted at DeNiel Foot and Ankle Center.
Exceptional Service, Exceptional Care
01.
Premium Foot & Ankle Services
When you sit down with our podiatrist, you receive her attention for the duration of your visit. Our podiatrist will listen to your concerns, conduct a comprehensive foot examination to identify any risk issue with your foot. Our podiatrist will help you put your best foot forward, one step at a time.
03.
Receive Quality Care from Our Staff
Utilizing the most advanced technologies in foot and ankle care
Personalized care, tailored to your needs
Focus on footcare and prevention of foot problems
Highest standards of customer service
02.
Main Focus of Our Private Clinic
Our patients receive personalized care that is affordable and attentive, with many of them being with us since the clinic opened in 2018. We are well tuned to providing the best podiatric services for everyone.
Patient Testiomonials
Amazing facility and wonderful staff. Dr. Sho is an exceptional physician, she listens to her patients, shows empathy, and is truly great at what she does.
Melba Fitzgerald
2023-09-07
Everyone in the office was very kind, hospitable. Oh, I'm trying to find more words, but my doctor she's fantastic. I can't wait to get back. I am seventy three years old and she's the best doctor I everthank you very much !!
Antonio Tejera Martínez
2023-09-06
Muy atentos desde la llegada. Varios hablan español. Local muy limpio. Buena explicación por parte de la doctora. Salí satisfecho de la visita.
3 weeks ago I could not walk due to severe pain emanating from my heel. I googled foot specialist and came across DeNiel Foot and Ankle Center. I am so glad I chose them, after 6 treatments I am back walking normal and no pain. The combination of therapy and stretches they advised me to do worked! I give their services, the staff and facility the highest rating I can give. If you are looking for professional, friendly and caring people to heal your feet, you can't go wrong choosing them. I highly recommend them!
Bailey Borquez
2023-08-14
Health & Wellness
2023-08-10
If I could give this office a ZERO, I would. Bad experience all around. DO NOT recommend.
mechelle gantt
2023-07-27
Went in complaining about my feet after wearing steel toe boots, Dr Sho explained to me everything she wanted to do ( no pressure ) and what I could do, I am so happy with the outcome, very professional and friendly love that place, now we're on to my toe nails not ashamed to wear sandals this summer....thank you Dr Sho and staff
Aleshia Jamison
2023-07-25
Dr. Sho and staff are so personable and professional if releases my fears
DeNiel Foot and Ankle Center - Ejodamen B Shobowale, DPM